Software Engineers and Autonomous Robotic Developers. Those are titles which can cause sleepless nights for HR-managers. When Internet of Things, Big Data and Robotics must be integrated in the production and products of today's manufacturing companies, the competition is tough when it comes to finding the right technology candidates and graduates.
The scarcity of technology resources is part of the background for a new partnership between Nilfisk and Aalborg University, a leading Danish University. The partnership entails joint research and an innovation hub where Nilfisk will be hiring a number of specialists over the coming years. In addition, there will be a close collaboration between the technology specialists at Nilfisk and leading researchers from the Computer Science, Electronic Systems and Energy Systems departments.
Build-up of tech competences
Nilfisk estimates that up to 10 percent of the company's global revenue will come from sales of autonomous products and solutions within 5-7 years. According to Lars Gjødsbøl, Executive Vice President at Nilfisk this requires a significant build-up of the right technology competences. The partnership with Aalborg University is yet another step on this journey for Nilfisk.
- We are developing the cleaning solutions of the future and we are able to do by collaborating closely with researchers from universities in Denmark but also internationally, says Lars Gjødsbøl, who explains that the partnership with Aalborg University complements Nilfisk's existing technology partnerships.
- The engineering departments at Aalborg University are recognized for being among the best in Europe. The university has a strong international network and represents some of the leading researchers within the field of robotics. So we are confident that we will find highly talented robot developers here, says Lars Gjødsbøl.
Aalborg University has a proud tradition of cooperating with private companies. Governed by a clear strategy on integrating knowledge collaboration in both research and teaching, Aalborg University represents nearly half of the commercialization from Danish universities.
According to Henrik Pedersen, dean of the Technical Faculty of IT and Design, this has led to numerous corporations with private companies – with Nilfisk as the most recent example:
"We are looking very much forward to the collaboration. Nilfisk is an attractive, international company with years of experience in developing and manufacturing innovative products. It is unquestionable that our researchers and students will have a lot to offer Nilfisk, and that the partnership also benefits the research activities and education at Aalborg University".
About Nilfisk
Nilfisk is a global market leader with headquarters in Denmark. Nilfisk has sales companies in 45 countries and with an additional strong distributor network, Nilfisk markets and sells products and services in more than 100 countries worldwide. Nilfisk is one of the world's leading providers of professional cleaning equipment and services, with 5,600 employees and an annual turnover of EUR 1.059m (2016). Nilfisk is listed as a large cap company on the Copenhagen Stock Exchange. www.nilfisk.com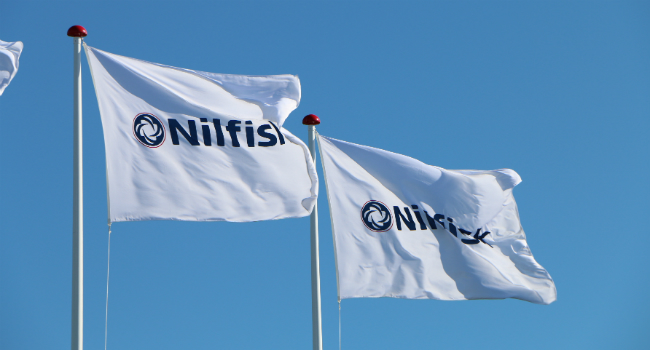 Contact
Nilfisk Media Relations: Louise.klinge@nilfisk.com, +45 29211749
Henrik Pedersen, Dean of the Technical Faculty of IT and Design Aalborg University, dekan-tech@aau.dk, + 45 99409632
Nelly Sander, press contact, Aalborg University, nsa@adm.aau.dk, +45 99402018