The Respiratory and Critical Care Group (RCare) in the Department of Health Science and Technology at Aalborg University (AAU) is working at full speed with a number of industrial partners to meet a severe shortage of ventilators.
They have two objectives in mind:
1) To develop a simple ventilator that can be quickly mass produced.
2) To develop assistive software to make the ventilator user-friendly for respiratory staff.
According to an article in the New England Journal of Medicine, US hospitals are reporting severe shortages of ventilators that are essential to managing the corona pandemic. The estimated need for ventilators in the US alone ranges from several hundred thousand to one million, and the current inventory is estimated to be between 60,000 and 160,000 depending on whether you include ventilators that are only partially operational.
This serious shortage not only leads to unnecessary deaths, it also leads to inhumane demands on the healthcare professionals who will have to make critical decisions about which patients should be offered this vital treatment.
The project is one of nine corona-related research project funded by the Ministry of Higher Education and Science.
While the researchers are being left to work undisturbed, Professor Lars Hvilsted Rasmussen, Dean of the Faculty of Medicine, AAU, answers a number of questions on the project:
Q & A
HOW DOES AN EMERGENCY VENTILATOR DIFFER FROM A REGULAR VENTILATOR?
- This emergency ventilator has a simpler construction than a traditional ventilator. It has the same necessary features, but is not as high-tech as a traditional ventilator. The emergency ventilator is made of simpler components, and sleek design and size are not taken into account.
IN WHAT SITUATIONS – AND FOR WHICH PATIENTS – WILL THE EMERGENCY VENTILATOR BE USED?
- The plan is to use all the CE-marked ventilators available in hospitals plus the ventilators that have been obtained from veterinarians, private hospitals and the university. These ventilators are all CE-marked. But once that capacity is exhausted and there is no possibility of obtaining additional ventilators, this emergency ventilator can be used. Like the other ventilators, the emergency ventilator is for patients who will die without a ventilator to help them breathe.
HOW MANY EMERGENCY VENTILATORS DO WE CURRENTLY HAVE IN DENMARK?
- Aalborg University has funds for the researchers to buy parts for 10 ventilators. If we get additional funding, we would like to build 40 more to have in stock. If more are needed, this will require industrial-level production with the assistance of Danish companies.
HOW MANY EMERGENCY VENTILATORS DO WE NEED LONG TERM?
- The need depends on how the epidemic develops and our capacity in terms of the existing ventilators. But we must bear in mind that all the country's ventilators are currently in use. Right now, for example, hospitals are experiencing a lack of operating capacity. But the authorities assess what stock of emergency ventilators Denmark should have as part of the crisis response plan.
CAN THE EMERGENCY VENTILATOR BE USED IN THE VERY NEAR FUTURE FOR THE CURRENT CORONA/COVID-19 CRISIS?
- We expect the prototype to be finished and tested this week. We then plan to build 10 prototypes, and we expect to be able to do this manually in a week's time. If the authorities assess that there is a greater need, it is our expectation that the Confederation of Danish Industry can assist in large-scale production quickly.
WHAT DOES IT TAKE TO GET AN EMERGENCY VENTILATOR UP AND RUNNING?
- The emergency ventilator we have developed is being tested on an artificial lung that can simulate various forms of lung disease – including severe pneumonia, as is the case in patients with COVID-19. When the ventilator is finished, it just requires power and, of course, air and oxygen. It also has an emergency battery feature.
HOW MUCH DOES IT COST TO BUILD AN EMERGENCY VENTILATOR?
- We estimate the manual construction of an emergency ventilator will cost about 30,000 kroner in materials.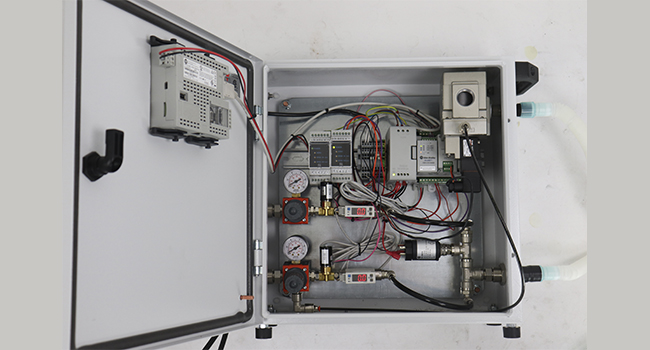 WHAT ELSE NEEDS TO BE DEVELOPED BEFORE THE EMERGENCY VENTILATOR CAN BE PUT INTO USE?
- The ventilator consists of various components – valve systems, sensors, an electronic control unit, etc. – that must work together in a special way in order for the emergency ventilator to be fully functional. For example, we have to make sure that the air entering the patient's lungs does so with a certain pressure. We are in the process of programming the electronics to control the machine. Next, it must be tested on an artificial lung.
THE PROJECT HAS RECEIVED PART OF THE GOVERNMENT'S FUND OF DKK 50 MILLION FOR CORONA-RELATED RESEARCH. WHAT DOES THE MONEY GO TO?
- The budget we submitted primarily covers the parts needed to build and test it. The university and our industrial partners provide the labour and facilities.
WHAT IS THE PROCESS? WHAT STEPS MUST TAKE PLACE BEFORE THE EMERGENCY VENTILATOR CAN BE USED?
Step 1: It needs to be developed in the lab, so we see that all parts work together properly. Step 2: The emergency ventilator must be tested on a system with artificial lungs, and the necessary documentation must be provided to the Danish Medicines Agency. Step 3: Based on the data we provide, we need to receive an approval from the authorities. Step 4: It goes into production.
WHAT DO YOU ESTIMATE THE DELIVERY TIME OF THIS VENTILATOR TO BE?
- Six people can manually build three emergency ventilators a day. In the case of production on a larger-scale, a company must be given time to convert its production system before it can deliver working emergency ventilators. A cautious estimate would be a few weeks. That's why we need to get started now.
DOES IT REQUIRE TRAINED PERSONNEL TO OPERATE IT?
Yes, it does. But it doesn't require as much expertise as a traditional ventilator. If you are going to fit a ventilator, you need to know what to watch for and how to set it. This one doesn't have all the bells and whistles and is easier to operate than a regular ventilator. This is an advantage at a time when trained respiratory staff is at a premium.
WHO WILL PRODUCE IT?
- If it's to be produced in large numbers, this will be done in conjunction with the Confederation of Danish Industry. They have the necessary knowledge on which companies can handle production like this. We have large companies in Denmark that already manufacture pumps, valves, circuit boards, etc.
CAN IT ALSO BE USED IN DEVELOPING COUNTRIES?
- It is designed to be made available as 'open source'. This means that we make the construction, design, testing, drawings, etc., available on the Internet and to other universities and health authorities so that it can be produced anywhere in the world as needed. The more lives it can save, the better. We now have a great deal of evidence that there will be an enormous need for ventilators internationally.
IS IT REALISTIC THAT IT CAN BE BUILT LOCALLY – LIKE IN DEVELOPING COUNTRIES?
- It is a relatively simple machine that is relatively simple to build. I think an ordinary machine factory could build it. Companies that are not very technologically advanced will also be able to produce this emergency ventilator.
ADDITIONAL INFORMATION
SOURCES
Articles in The New England Journal of Medicine on the severe shortage of ventilators in the US:
Megan L. Ranney, M.D., M.P.H., Valerie Griffeth, M.D., Ph.D., and Ashish K. Jha, M.D., M.P.H. (2020). Critical Supply Shortages — The Need for Ventilators and Personal Protective Equipment during the Covid-19 Pandemic. The New England Journal of Medicine.
On the estimated need for ventilators in the US:
Robert D. Truog, M.D., Christine Mitchell, R.N., and George Q. Daley, M.D., Ph.D. (2020). The Toughest Triage — Allocating Ventilators in a Pandemic. The New England Journal of Medicine.
CONTACT
Press contact (and contact for Professor Lars Hvilsted Rasmussen, Dean):
Lone Bechmann, Strategic Advisor, Faculty of Medicine, AAU:
Mobile: +45 22 19 12 53.
Mail: lbec@adm.aau.dk
Translated by LeeAnn Iovanni, AAU Communication